ACE Catering & Events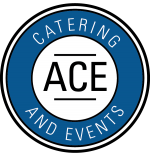 ACE Catering and Events is locally owned and operated by John and Morgan Barrett. Ace is a collaboration of Barrett's Grill and Glyndon Grill. It started as a single event, and has evolved into the newest venture of Stonebridge Restaurant Group. Our loyal guests wanted the ability to have delicious food and high-level service for every occasion. From our place to yours, we provide individualized proposals and dedicated attention to each and every event; no matter the size or budget.
At ACE, we strive to maintain the exceptional service and food our guests have come to love.