The Social Butterfly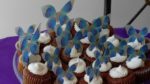 The Social Butterfly DIY Events is a unique event design company that focuses on affordability and helping our customers plan and execute their dream weddings. Our goal is to get what's inside your head onto paper, and give you practical ways to bring that illustrated dream into reality. We work with you to identify and conceptualize the theme of the wedding by providing pictures, sketches, and detailed step-by-step instructions for important design elements that fit into the theme for your wedding. We also identify appropriate vendors for events, provide budgets and timelines for customers specific to the wedding, and other additional services as needed. One of our main goals is to work within the budget you give us; whether that is a $5,000 or $50,000 wedding.
The term "DIY" (Do It Yourself) is an important aspect of our business name and a crucial part of what we do. We give you the tools to bring your own dream wedding to life.
Send Message to listing owner
The Social Butterfly