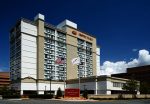 About
When at The Crowne Plaza Old Town Alexandria or Holiday Inn Historic District, it's all about elegance and comfort. The comfort to dazzle your senses with the fascinating sights, sounds and attractions of Washington D.C., as well as the elegance of attending social events at a fine Alexandria hotel.
Whether planning or attending an Alexandria social event, take time to explore the fanciful delights of this historic city. Fashionable shopping, trendy cuisine, buzz-worthy nightlife, there's always a reason to come back, and that's just a start to all the remarkable Alexandria and Washington DC attractions.
Being premier choice hotels in Alexandria means taking in the vast beauty of each of our ballrooms and seeing your vision come to life. With a combined total of 20,500 square feet of flexible function space, you and your guests can host a memorable Wedding, Gala, Family Reunion and beyond.
Dazzle and Dine, it's your party, but that doesn't mean you have to do the worrying. Rely on our Social Catering Sales professional and you won't miss a detail. Our Presidential and Commonwealth Ballrooms welcome receptions up to 600 guests, truly a top wedding venue in the Washington D.C. area. We'll partition the space to fit your event, leaving plenty of room for the dance floor of course.